Metal Machining Liquid, Cutting Fluid, Coolant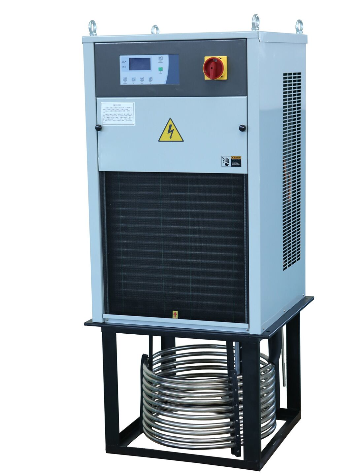 I. Main Features
◆ Compact structure, easy installation and maintenance;
◆ Special parts of industrial chiller are made of special materials with special treatment, corrosion resistance, strong sealing performance;
◆ Reliable performance, stable operation, low noise, high  energy efficiency;
◆High-pressure electrostatic spray, beautiful appearance, anti-static, corrosion-resistant;
◆ Low power consumption, environmental protection and  energy saving.
II. Applications:
◆CNC lathe, milling machine, broaching machine;
◆CNC Machining center
◆Grinding machine, honing machine;
◆Electric discharge machine, cleaning machine;
◆Hydraulic machines;
III. Functions:
◆To keep machining accuracy subject to the changing liquid temperature;
◆Set up the oil temperature based on the ambient temperature to avoid thermal deformation for the workpieces;
◆Immersion type to keep the chiller from contaminating by the impurities and the cutting powder;
◆Easy to clean, maintain and install;
◆Auto alarming function to reminder users for inspection and maintenance to avoid any damage of industrial chiller/cooling unit.
IV. Technical Specifications
Model
MC-16-J
MC-25-J
MC-35-J
Cooling capacity           (W)
1600
2500
3500
Input power                 (KW)
0.9
1.05
1.6
Power source
220-240V/50HZ
Current                   (A)
4
4.8
5.2
Temperature regulating range (°C)
5°C~35°C
5°C~35°C
5°C~35°C
Ambience Temperature                               (°C)
≦42°C
≦42°C
≦42°C
Refrigerant
R22/R134a/R290
R22
R22
Weight                    (kg)
50
52
66
Dimension                    (mm)
440x420x820
465x465x(576+330)
520x500x970
 
 
 
 
Remarks:
Cooling Capacity results subject to the ambience temperature at 35°C, oil liquid temp. at 35°C and water liquid at 20°C.
When the liquid level is below the chilling tube, clotted water on the tube surface will be mixed into the liquid to cause liquid deterioration, thus decreasing the cooling capacity;
This industrial chiller / cooling unit machine should be used in well-ventilated places free of dust, corrosive gas or debris.
Do not use corrosive liquid;
Clean the liquid, filter net and chilling tube regularly, once per month is preferred;
Clean the condensator regularly, once per half year is preferred;
Other industrial chiller / cooling unit specifications and sizes can be customizable upon request.
 V. Mounting Dimensions of Industrial Chiller / Cooling Unit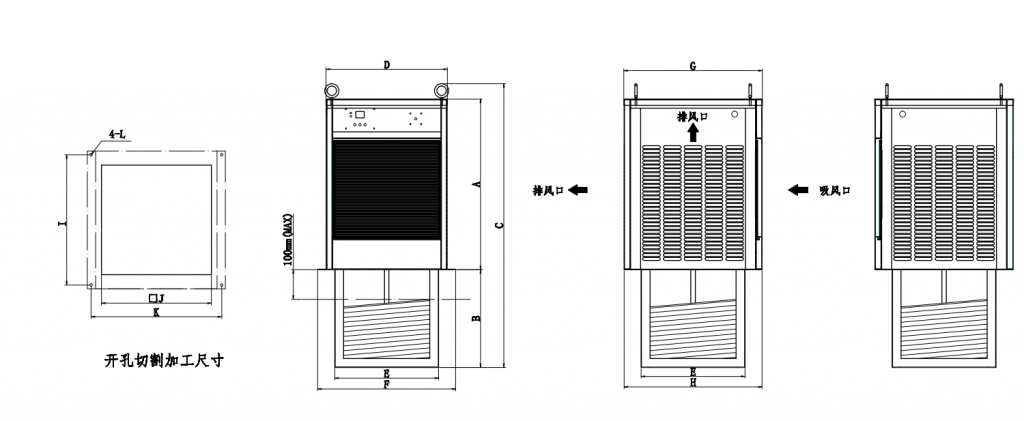 | | | | | | | | | | | | | |
| --- | --- | --- | --- | --- | --- | --- | --- | --- | --- | --- | --- | --- |
| Model | A | B | C | D | E | F | G | H | I | J | K | L |
| MC-16-J | 500 | 300 | 860 | 409 | 350 | 420 | 467 | 465 | 440 | 370 | 440 | M8 |
| MC-25-J | 576 | 330 | 960 | 409 | 350 | 465 | 467 | 465 | 440 | 370 | 440 | M8 |
| MC-35-J | 601 | 400 | 1050 | 512 | 420 | 570 | 603 | 600 | 545 | 440 | 575 | M10 |
VI. Models Instruction
MC –  XX – J
(1)       (2)    (3)
(1)Serial Number:
MC: Immersion type industrial chiller / cooling unit series;
(2)Cooling Capacity(x100W)
XX indicate cooling capacity 100x(XX)=100XX (W)
e.g. XX is 25, it indicates cooling capacity at 100W x 25=2500W
(3) J stands for cooling agent (S for water, Y for oil)